Project ABB Bulgaria EOOD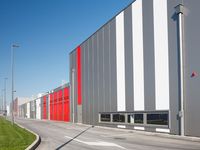 Another project of Lindner Immobilien Management EOOD was successfully completed and put into exploitation – "Factory for low- and medium voltage electrical components" with Investor ABB Bulgaria EOOD – branch Rakovski.
The services of Lindner Immobilien Management EOOD regarding the project include design and project management. The factory covers about 16 000 m2 built up area, of which 14 000 m2 – production hall and 2 000 m2 – offices. The project itself distinguish for its high-technology, high-quality, innovative and sustainable solutions.
The building is among the nominees in the category "Industrial and logistic buildings" the most prestigious competition in the field of construction and architecture "Building of the Year" 2013.
To support our participation in the competition or just for more information, please visit the following website: www.buildingoftheyear.bg/en